[ad_1]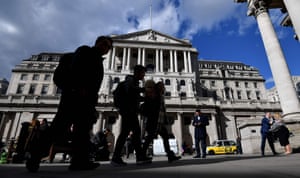 Good morning, and welcome to our rolling coverage of the world economy, the financial markets, the eurozone and business.
With Britain teetering on the brink of full-blown Brexit chaos, the Bank of England will today give its latest assessment of the UK economy.
With a disruptive No-Deal exit potentially just eight (!) days away, the Bank is certain to leave interest rates on hold at 0.75% at this week's policy meeting. The BoE will also keep its hands away from the stimulus levers, and leave its quantitative easing programme unchanged.
Instead, there'll be real interest in how the Bank sees the UK economy. Are its Agents more concerned about the state of no-deal planning? Does it see problems building in the money markets? Is the City really ready for the disruption of a disorderly Brexit?
We find out at noon, when the Bank publishes the decision and the minutes of this week's Monetary Policy Committee meeting.
We might also get a hint about when the Bank will raise interest rates, now that wages (+3.4%) are rising rather faster than inflation (1.9%).
Before that, the Office for National Statistics will release its retail sales and public finance figures for February.
Economists predict that retail sales shrank by 0.4% in February, as consumers cut back after the January sales. A weak reading would fuel concerns that Brexit is hurting the economy.
The public finances are expected to show that Britain borrowed around £600m to balance the books in February (January was much better, with bumper tax receipts producing a surplus of almost £15bn).
City traders will also be watching Brussels, as the prime minister tries to persuade EU leaders to give her more time to get her deal through parliament. The mood in Westminster is even more febrile, after last night Theresa May went on TV to castigate MPs for not backing the Withdrawal Agreement.
On the corporate front, retailer Next, fashion chain Ted Baker and computer game seller Game Digital are reporting results.
The agenda
8.30am GMT: Swiss National Bank's interest rate decision
9.30am GMT: UK public finances for February
9.30am GMT: UK retail sales for February
12pm GMT: Bank of England interest rate decision


[ad_2]

Source link Google News