[ad_1]

Ola's PR team has also launched a charm offensive, emailing journos offering interviews about Ola's performance in the Perth market and its mission to "build the future of mobility" across Australia-NZ.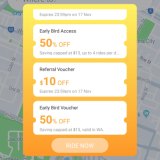 According to a recent IBIS World report into the rideshare market the industry is dominated by Uber Australia, which accounts for more than 85 per cent of revenue.
Apart from the usual introductory offer and friend referral codes, Uber does not routinely discount, but even Uber has begun a discount bonanza during the countdown; on Saturday morning for the first time in a long time, Uber offered me a 25 per cent discount, bringing my ride from Como to Perth down to around $10 and finally matching Ola's price for the same ride.
Uber informed me this discount would be applied to up to 20 rides.
Meanwhile, both Uber and Ola drivers are advertising the new app (owned by Didi Chuxing Technology Co, whose Australian launch in Melbourne last year was also its first foray in a Western country).
Riders are being inundated with signs and cards bearing discount codes and verbally encouraged by riders to sign up and cash in.
The cards tell me to 'switch to lowfare rideshare' (how much lower can you get than $10 for a 15-minute drive?) and give codes for $10 off the first two rides.
Plus I get the early bird offer for Western Australia: 50 per cent off every ride for a month.
The dollars I save might cost me in privacy terms: I note DiDi's app would not allow me to deny it permission to access photos, media and files on my device, though I can't see a logical reason an app would require this.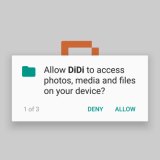 The answer may be buried somewhere in the voluminous terms and conditions that, like probably 100 per cent of new WA clients, I ticked I had read and understood, without understanding and reading. If I start fielding new unsolicited sales calls from people trying to save me money on my gas bill I will have only myself to blame.
The perky welcome screen message quotes Sheryl Sandberg saying, "If you're offered a seat on a rocket ship, don't ask what seat. Just get on it!"
In case you are a person who does ask uncool questions, like whether discounting affects drivers' earnings, whether being a rideshare driver can provide a sustainable living wage, or how rideshare companies disrupt local economies and regulatory landscapes, you might like to do some research.
I don't have all the answers, but drivers tell me the companies wear the cost of the discounting, though that might change in future.
They also tell me they make more off Ola than they do Uber, though that might change in future.
My reading makes me inclined to doubt that driving a rideshare app can be a sustainable livelihood in the long term or make anyone but the parent company much real profit, no matter how dexterously a driver plays all three apps.
Particularly in Perth, whose sluggish economy means more and more drivers competing for clients whose falling discretionary budgets and expectation of ever increasing discounts add up to a zero-sum game.
A taxi can remain the best option in many circumstances and for many people; those who simply want to go to a rank and know taxis will be there, or who care about having CCTV installed in the car, or who want the company profiting off their business to be an Australian company.
But this article is just a heads up for those riders who, like me, have chosen to temporarily forego the luxury of maintaining a private vehicle and instead rely on a mixture of cycling, public transport, rideshare and taxis and for whom budget comes above all other considerations.
Emma Young covers breaking news with a focus on science and environment, health and social justice for WAtoday.
[ad_2]

Source link Google News