[ad_1]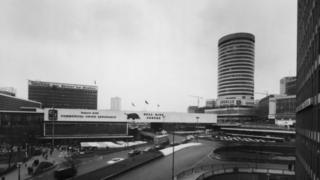 In the 1960s shopping centres offered a vision of the future – large shiny complexes which looked to bring the ease and glamour of US suburban malls to UK town and city centres.
From the 1970s to the 1990s they were followed by out-of-town shopping centres, often built on land which had recently housed Britain's vanishing heavy industries.
In the past decade there has been a 21st Century renaissance in the original concept of the city centre arcades, whether it be the new Westfield Centres in Shepherd's Bush and Stratford in London, or the rebirth of the once-derided Bull Ring in Birmingham.
At the same time the growth of online shopping, and other societal changes, have left a fractured landscape, and an industry looking at an uncertain future.
The latest illustration of this has been the cancellation of a £2.8bn deal to purchase shopping centre giant Intu Properties – owner of the Trafford and Arndale centres in Manchester, Metrocentre in Gateshead, and Lakeside in Essex.
The potential buyers, a consortium led by Peel Group, blamed "uncertainty around current macroeconomic conditions and the potential near-term volatility across markets".
In November, a report from analyst Nelson Blackley warned that more than 200 UK shopping centres were in danger of falling into administration.
Consumer experiences
According to Richard Lim, chief executive of analysts Retail Economics, shopping centres which have an exciting future will be those that plug into the desires of consumers to be more than mere "shoppers".
He says there should also be a future for those outlets which offer a more nuts-and-bolts service, but are in good locations.
"In my view we are seeing, in terms of physical properties, the polarisation in the shopping market, between those retail centres which are thriving because they are flagship destinations, and the rest," says Mr Lim.
"These flagship shopping centres – the likes of Westfield, Leeds Trinity, Birmingham's Bullring – are the ones that are tapping into consumers' desire for experiences; offering bars, restaurants, cinemas, bowling alleys, opportunities to try things like cooking, and so on.
"Looking at these centres, the retail experience is important but it is not necessarily the sole driver of footfall."
He adds: "It is by having a blended proposition, that includes other activities, that will allow a centre to thrive.
"Experiences are more important than ever before – Western households have an abundance of material possessions and want something more."
Local links
As well as these landmark "experience" destinations, Mr Lim says that there is a strata of secondary and tertiary shopping centres that are doing well.
"These are the sites close to where people live, work, or have transport hubs nearby. These outlets will have seen their retail pull diminish over the past 10 years. But their locations enable them to have a sustainable level of footfall to survive.
"But those shopping centres which do not have one of the benefits of these location factors are the most susceptible to the growing lure of online."
Mr Lim says not only is consumer behaviour changing – but that it is changing very quickly. It is being brought about not only by online the growth of the experience economy, but also by the development of smartphones making it easier to make purchases on the go.
"At the same time there has been a diminishing of the value attached to possessions. Millennials are one of the groups driving this retail change, what they want are experiences they can share with their friends on social media, something very different to what older people want," he adds.
After the Intu deal fell through, shares in it and in rival chain Hammerson fell sharply. Intu, while saying it would continue to invest in the long term of its shopping centres, pointed to what it said was was a "challenging market."
"There is the uncertainty of Brexit, which is likely to inform a lot of shopping centre decisions in the near future," says Mr Lim. "But there also has to be an acknowledgement that the bigger picture for shopping centres is one of fast-changing consumer behaviour."
Christmas impact
Graham Parker is editor of industry magazine Retail Destination (formerly Shopping Centres).
"The story is that shoppers are migrating to the top of the range shopping centres, such as the Trafford Centre or Bluewater in Kent," he says.
He says that footfall across shopping centres generally is down 2.5% to 3%, but only by 1% at the prime locations.
"Physical retail is suffering not only from online shopping, but increasing business rate bills, the national minimum wage and Brexit hitting the pound and making imports more expensive," he adds.
"This may have to get worse before they get better. That is why this Christmas is going to be absolutely crucial for shopping centres and the brands and chains that have outlets in them."
[ad_2]

Source link Google News